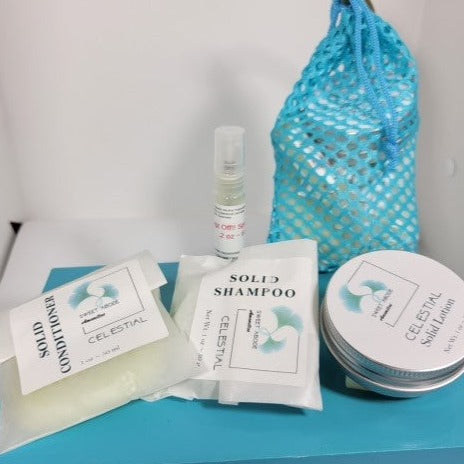 Vacation Rental Amenities Eco-Friendly Packaging
Ditch the Bottles, Save the Planet!
Solid Shampoo and Solid Conditioner Bars with no Bottles come packaged in a soap saver mesh bag. The Solid Lotion is packaged in an aluminum round tin. This package is perfect for glamping and very earth friendly.
Woodlands - a beautiful forest walk on earthy mountain trails, pines and a hint of wildflower.
River Rock - Refreshing clean water tumbling over river rocks fragrance of nurturing, detoxifying scent is comprised of citrus tonic, Moroccan rosemary, salted algae, oakmoss, extract and washed cedar.
Celestial - Soft evenings scented with fresh mountain springs, hemlock, honeysuckle & magnolia
15 One ounce-Solid Shampoo Bars
15 One ounce Solid Conditioner Bars
15 .5 ounce Solid Lotion Bar
Mesh Soap Saver Bag
Note cards explaining how to use the products.